HELP TEACHERS TEACH STUDENTS!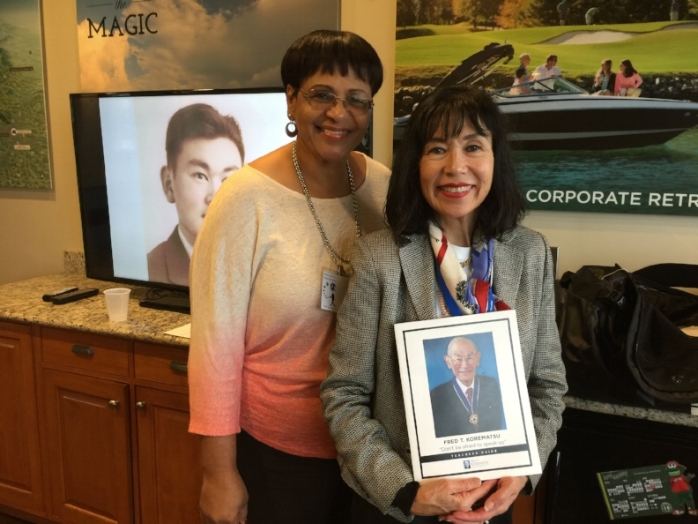 With each $20 donation we are able to send a free kit.
Korematsu Institute Curriculum Kits already have reached 6,000 classrooms and over 1 million students.
As school starts our demand is escalating!
PLEASE help us send our Curriculum Kits free of charge.
Teachers need your help to advance racial equity, social justice, and human rights.

The Korematsu Institute develops and distributes curriculum about Fred Korematsu's story, the WWII Japanese American incarceration, Asian American history, and current civil rights issues. Educators in all 50 states and a number of overseas countries have requested Curriculum Kit materials from the Institute. Each kit has historical information, photos, and supplemental materials in order to teach the lessons of history and bring relevancy to the challenging issues of today. The Korematsu Institute also supports teachers with teacher development workshops and conferences through many organizations such as the social studies/history state councils and the National Council for the Social Studies (NCSS).
Each Curriculum Kit includes the following:
• DVD of four videos, including the 24-minute version of the 2-time Emmy Award-winning documentary, Of Civil Wrongs and Rights: The Fred Korematsu Story, with English and Japanese subtitles
• Graphic novel book, Fred Korematsu: All American Hero
• Poster, "Asian American and Pacific Islander Civil Rights Heroes"
• The Korematsu Teachers Guide for grades K-12 (includes grade-appropriate lesson plans plus primary and secondary source documents)
• Viewer's Guide pamphlet for Of Civil Wrongs and Rights: The Fred Korematsu Story
• Poster, Fred Korematsu Day
• Booklet, Patriot Acts: Narratives of Post 9/11 Injustice
Click here to support our Back-to-School Curriculum Kit Campaign.
Other Ways to Donate
Check Donation
If you do not wish to donate online, please make your check payable to
COMMUNITY INITIATIVES/KOREMATSU INSTITUTE and mail to:
 
The Fred T. Korematsu Institute
Presidio of San Francisco, P.O. Box 29527
San Francisco, CA 94129
 
Thank you very much for your generous donation. Your gift allows us to send our Curriculum Kits free of charge.